Setting up your views is one of the most critical parts of using InsiteVR. Without views you can't teleport your client to different scenes and may limit your control over the presentation. 
To set views, download your desktop app and launch it.
Walk or Fly (toggled in the lower left corner) around the model until you're happy with a particular view. To add a view, click on the eye icon at the bottom. You must be in "Walk Mode" to add a view. Next, click the plus sign in the views menu.
Give your view a name and press "create". Continue this process until you've saved all your new views. These cameras will now appear in your "Views" menu.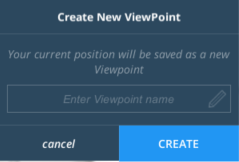 To delete views, select your view from the view menu on the bottom, select the view, and click the trash icon.
After you're done click "Start Presentation" and put on your VR headset to see if you're happy with all your scenes.
 - Learn how to teleport your clients